What is a Concrete Batching Plant? | What are the Types and Usage Areas?
Concrete Batching Plant is the general name of the facilities where ready-mixed concrete is produced quickly by mixing materials such as gravel, sand, water and cement in the desired ratios.
In the Concrete Batching Plants, there are equipment such as cement silos, concrete mixers, mixer feeding belts and aggregate bunkers.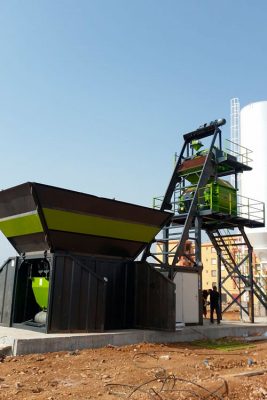 As Umman Concrete Batching Plants, we are able to manufacture 4 types of concrete batching plants.
Designed to be used in your long-term projects, stationary concrete batching plants are designed to be used in the ready-mixed concrete sector and contracting services, to meet your needs exactly and according to the nature of the work, and are commissioned so that you will not have any problems in the continuation of the work.
Mobile Concrete Batching Plants
Mobile concrete batching plants preferred by our customers who want a shorter and faster solution compared to stationary concrete batching plants are frequently mentioned in the market with their easy transportation, fast assembly – disassembly and low operating costs.
Compact Concrete Batching Plants
Also referred to as bucket concrete batching plant, this type was designed to ensure that concrete batching plants do not occupy much space in the field and that their transportation is possible in a very short time and inexpensive. This type of concrete batching plants are manufactured in the form of containers or to be shipped with containers. Due to its structure, it does not require a foundation and loading ramps.
As an additional information, the selection of the concrete mixer varies according to the project in which it will be used. Mixers, one of the most important equipment of concrete plants, can be produced in 4 types; Single Shaft, Twin Shaft, Pan and Planetary.